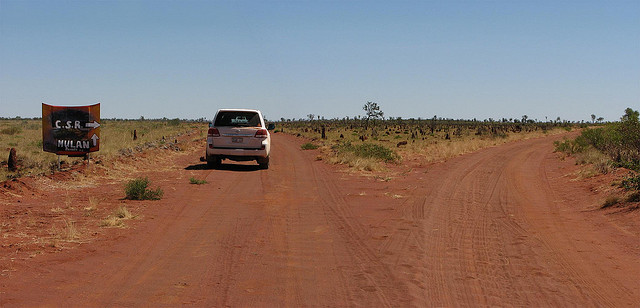 Every year, thousands of courageous drivers hop behind the wheel to try their hand at one of the world's last epic journeys. The Canning Stock route is 2,000 kilometres in length, passing through one of the most isolated and treacherous regions of Australia. It crosses three deserts, with many parts of the track accessible only by rugged four wheel drive vehicles with a high ground clearance. If you're a confident driver interested in getting off the beaten path in Australia, the Canning Stock route could be one to add to your bucket list.
Image Source: Yaruman5/Flickr
Highlights of the Journey
The Canning Stock route covers the territory between Wiluna in Western Australia and Halls Creek in the North West region of the country. The most thrilling sights of this journey can be found within the Great Sandy, Gibson, and Tanami deserts. In addition to native wildlife, you'll spot historic grave sites, ancient Aboriginal rock art, and 51 wells originally used to water stock. As the longest stock route in the world, this road was originally designed for the cattlemen in the Kimberly region to transport their stock to southern Australia. It was created by Alfred Canning in 1906, and took four years to complete. The history of the route itself is one of the main reasons to visit, as is its constantly shifting natural scenery.
When to Travel
Give yourself a little over two weeks at minimum to tackle the Canning Stock route. The best time to travel is between the months of May and September, when temperatures are relatively mild. The temperature can still drop significantly in the evenings, however, so be sure to pack plenty of layers. Although you could attempt to travel at other times of years, you'll face the potential of extreme heat, wet conditions, and flooding. It's best to postpone your trip if heavy rain is forecasted, because you could get stuck in flooded tracks or bogged down in mud.
How to Prepare
Road conditions will vary significantly from one end of the route to the other, but you can expect to cover sand dunes, rocky bits of road, and corrugated roads. To this end, you'll need to be driving a sturdy vehicle like a Land Rover, Toyota RAV4, or Jeep Wrangler. It's a good idea to read reviews before you head out, so click for more information to help you choose the right vehicle. Many parts of the track are really only suitable for sturdy vehicles with a high ground clearance, and if you have little to no outback experience it's a good idea to tackle a shorter drive first.
Image Source: Calistemon/Wikimedia Commons
Supplies and services will be limited along your journey, and road conditions will also be impacted by the weather. It's important to get in touch with the local visitor centre before you begin the drive, so that you can learn the latest weather conditions or any other pertinent bits of information. Stock up on extra food, water, and fuel in case of a breakdown, as you may be many miles away from the nearest service station.
Finally, the Canning Stock Route runs through five different native title areas, and you'll need to arrange for suitable permits to pass through these Aboriginal lands in advance. This helps preserve and protect the local heritage, sites, and culture.
With a bit of time and preparation, you can make sure that you're prepared to handle the rough and tumble terrain of this fascinating route which ranks as one of the world's greatest four-wheel drive adventures.