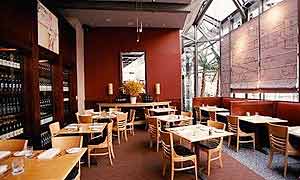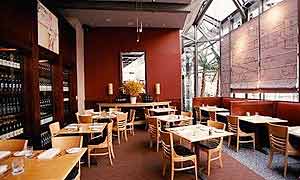 Essential for any traveler is to find a good little cafe. Not only do you need a hit of strong java to spring you forward into your day looking around a city, you also need to find a little key hole to see how the locals are living. You could head to Starbucks, and since you're in Canada – Tim Hortons, but what would be better would be to find yourself a nice little independent cafe that showcases the culture of a certain area in Toronto. Below are some listings for a few coffee shops in different areas in Toronto.
Jimmy's Coffee
Sandwiched between Adelaide and King on Portland Avenue is Jimmy's Coffee always a hub of activity with people chatting and others pounding away on their lap tops. With great baristas who occasionally moonlight as artists creating shamrocks and hearts in Latte cream Jimmy's really excels at making a great coffee. The selection of delicious baked goods like pecan muffins and sea salt brownies give another big check mark in Jimmy's ledger.
La Merceria 
Nearby to Jimmy's is La Merceria an Argentinean cafe that also doubles as a home accessories shop. All different varieties of cheese boards, baking pan, and flasks, to name just a few things, are for sale here. Owning a discerningly chilled out vibe the black board menu of coffees and sweets reaches to a touch of the sophisticated. So come in here drink a coffee and perhaps buy a souvenir to use at home where ever they may be.
Snakes and Lattes 
Located on Bloor Street near Bathurst Street is snakes and Lattes a cafe that comes complete with more than 2,200 unique board games. With a $5 dollar fee patrons can play games as long as they like with the selection ranging from classics like Monopoly, the Game of Life to more esoteric games like Pandemic, Dominion, or Settlers of Katan. This cafe is open late till 2 am and has foods to eat, any coffee you want, and even beer.
Rooster Coffee House 
This coffee shop is located on a hill in Toronto east overlooking Riverdale East Park. The view is a splendid look over Toronto's skyline. With arm chairs, spaces outside, and the classic cafe bench table Rooster is a place that is definitely intended for lounging and taking your time. The look is of Roosters is an amalgamation of exposed brick, chandeliers, and apothecary jars and the vibe is always friendly.