When it comes to beaches, Cyprus certainly has a lot to choose from, so depending on what you want it will definitely be possible to find the right one for you. Different parts of the island are characterised in certain ways and this will help to guide your decision.
On the east coast of Cyprus there are a large number of sandy beaches, the type of which fun-packed holidays are made, with plenty of watersports, bars and restaurants on offer. These are sociable places where you are likely to strike up a conversation with the people under the parasol next to yours.
The west coast is more likely to have shingle as opposed to sand and for those who like a little more peace and quiet on holidays to Cyprus they have more chance of finding it here. In fact the further west and north you go the fewer people you will see.
Pissouri Bay
For the best of both worlds in terms of shingle and sand, head to Pissouri Bay, whose position on the south coast of the island gives beachgoers a bit of variety. This two kilometre expanse of beach has a wide variety of watersports on offer, yet remains largely undeveloped in terms of buildings.
There are, however, a few small tavernas dotted along the shoreline allowing for a cool refreshing drink or traditional Cypriot food once you have worn yourself out on the waves.
Situated about three miles to the west of Pissouri Bay is Aphrodite's Rock, which is said to be the birthplace of the fabled goddess. Those who manage to swim around this outcrop in the sea are said to gain eternal beauty.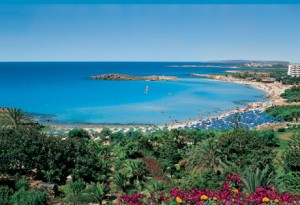 Nissi Beach
When it comes to white sand and turquoise seas the best option is Nissi Beach, which can be found in the Ayia Napa area of the island. This is, however, a party beach with all of the attributes that come along with that.
Nissi boasts a wide variety of pubs and cafes which often have music emanating from them and the most adventurous holidaymakers may wish to participate in the resident bungee jump at one end of the beach. Other less extreme, but still fun, sports on offer include waterskiing, windsurfing and pedal boating.
Lara Bay
For the opposite end of the spectrum head to Lara Bay, which has a secluded position on the Akamas peninsula, meaning it is often relatively empty compared to others on the island. It is necessary to have a four wheel drive at your disposal to get there, but it will be worth the effort.
This deserted beach still sees green turtles returning to it every year during the breeding season, with female turtles laying their eggs here. Visitors may also spot monk seals which live in the surrounding coves.
Lara Bay is a great place from which to go on walks in the surrounding area and in spring the countryside explodes into colour with myriad native flora and fauna. There is an open air restaurant where you can buy snacks, but taking a picnic is a good option too.
Holidays to Cyprus definitely mean a trip to the beach, but make sure you know what type of beach you want and choose it accordingly. This will prevent disappointment and allow you to make the most of your time away on this brilliant island.
Click here to find out more