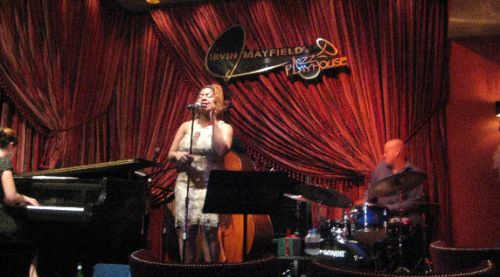 In a city where it is difficult to decide on 'the best thing' and where you can choose from eclectic culture, mysterious settings and architectural charm, music stands out as one of the best experiences in New Orleans. Sure, this may seem as a truism in a city that shared with the world the likes of Louis Armstrong, but it is much more than that, it is a city that truly vibrates the music and you can hear it at every corner, on the street, from the buildings, the jazz clubs and restaurants. What's even more exciting is that you can hear it at almost any hour of day or night. As it was around Christmas time, the classical jazz pieces, with variations to them (which made me wonder in how many different ways you could play "When the saints go marching in"), combined with the carols tunes to make a simply wonderful musical landscape. Here are a couple of the places I have been to and liked during my stay in New Orleans, some of out of the usual guide book recommendations:
Irvin Mayfield's Jazz Playhouse
This place, next to the Royal Sonesta Hotel on Bourbon Street has a wide variety of jazz for all tastes, times and dispositions. The Happy Hour, referred to as the Play Hour (5 to 8 pm), also has the nice bonus of very reasonably priced cocktails. We went on Thursday and enjoyed Roman Skakun on the xylophone, an instrument you don't usually have the opportunity of listening to.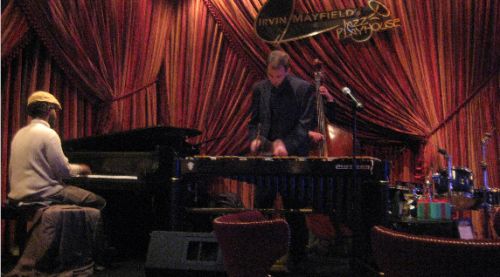 After 8 pm, it was on to the wonderful voice of Johnaye Kendrick with a wide repertoire of inspired songs, including from the repertoire of Norah Jones. The artists at Irvin Mayfield's Jazz Playhouse change every night – you can check a complete schedule of their performances here.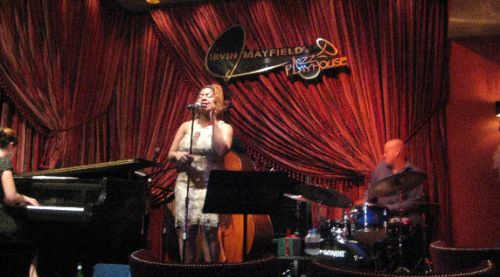 Not too far away on Bourbon Street, you have a charming patio with live jazz music. Besides the great jazz, the atmosphere is friendly and family-like: the players interact with you and as you about where you are from so that they can play something from your part of the US. There is also a big black dog strategically placed next to the money pot who encourages petting and affectionate gestures. On the way out, take pictures with the statues of famous jazz players just outside.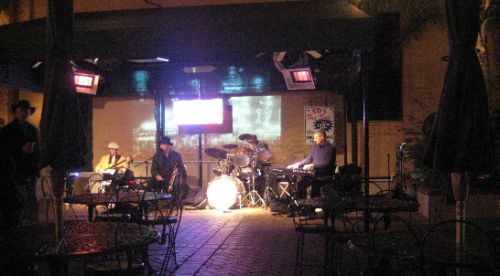 If you want to learn more about jazz and about things such as brass and funeral bands, stop at the New Orleans Jazz National Historical Park (916 N. Peters) and enjoy both one of the movies and the wide array of information available, including how jazz and funerals go hand in hand. If you want to turn your trip to New Orleans in to a jazz encounter and discovery, this would probably be the best place to start.