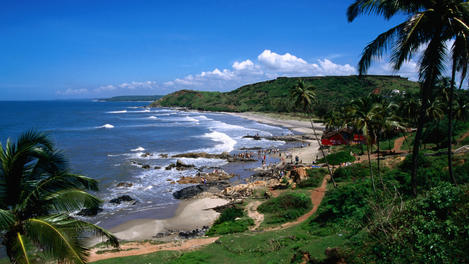 Goa has become a very popular spot for Western travelers coming to India. Well known for having great beaches, nature and an active night life there is plenty of fun to be had. This doesn't take into account Goa's past as a place to come for spiritual enlightenment. Any trip to India should invariable require a healthy dose of time here in Goa. A few must see things in Goa include:
Ajuna Flea Market 
The Anjuna flea market is held each Wednesday (except during Monsoon Season) on the Southern edge of Anjuna beach. This market has multiplied in size over the last few years now including more than 500 stalls. There is a huge variety of different wares including clothes, foods, jewelry, and other varied ornaments and nick knacks.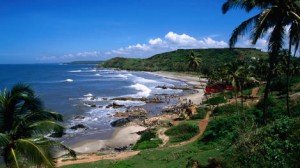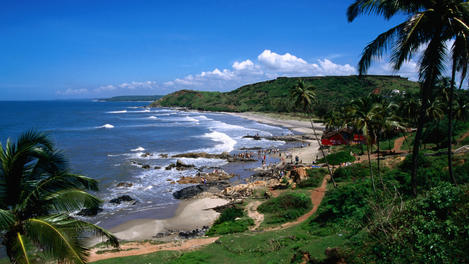 Goa's Beaches 
Graced with long stretches of sandy coastline Goa is well known for its beautiful beaches. The beaches are put to a variety of uses from luxury resorts, to small individual huts, and Goa's international renowned beach trance parties. Each month a famous full moon dance party is held. Be sure to try Goa's different beaches that include Baga, Arambol, and Agonda beaches.
Old Goa
This section of the city connects to Goa colonial past when it had ties to Portugal. There are a handful of churches and cathedrals that are amongst the largest in all of Asia. Also look for Goa's archaeological museum which details Goa's past.  (add to again as part of this was deleted. )
Spice Plantations 
Another of Goa's attractions is a trip to the spice plantations near Ponda. The tropical climate around Goa makes it ideal for growing spices. One of the most acclaimed nearby spice plantations if Savoi Plantation which is reached by a fantastic drive through the jungles and hills of Ponda. It is possible to have organized tours through the plantations and even at some of them to arrange activities such as elephant rides.